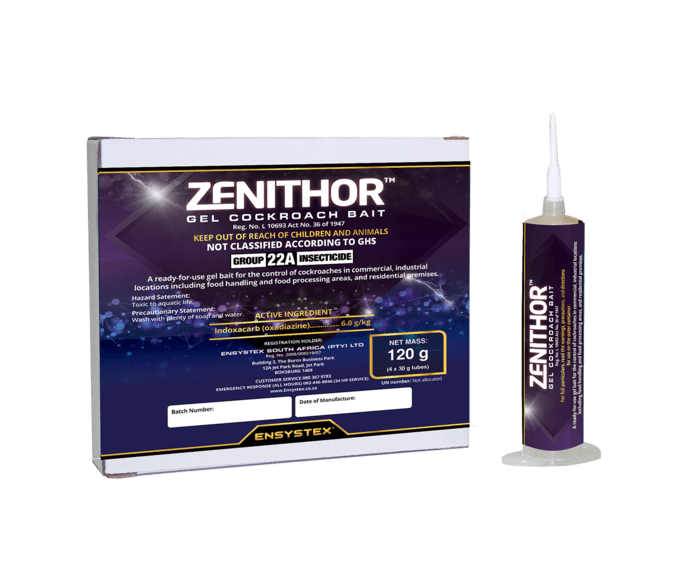 ZENITHOR Gel Cockroach Bait
ZENITHOR was developed with the view of creating a legendary cockroach gel bait, a gel bait that outperforms all others. 
ZENITHOR's outstanding performance arises from our most complex cockroach gel formulation to date. Employing the most sophisticated gel chemistry, ZENITHOR provides improved physical performance with improved flavour for cockroaches – and longer-lasting results.
ZENITHOR contains more than ten feeding stimulants and sensory attractants to maximise cockroach feeding, deliver faster kill and ensure total elimination of all cockroach aggregates. 
ZENITHOR introduces our unique Synergised High-consumption Bait Technology™. This greatly improves performance due to the use of several unique, natural feeding stimulants that each synergise the effects of the other, to improve the amount of ZENITHOR consumed.
ZENITHOR Enzyme Bio-activation™ exploits the cockroach's metabolic processes to provide improved kill with reduced risk. Following consumption, cockroach enzymes activate the active constituent converting it into a new, highly active insecticide, DCJW. ZENITHOR Enzyme Bio-activation™ leads to rapid and irreversible impairment of cockroach nerve function, leading to feeding cessation, paralysis, and death. 
And then there is ZENITHOR's Viral Excretion Transfer™ technology.This ensures ZENITHOR intoxicated cockroaches contaminate their harbourages, and the surrounding environment, with ZENITHOR-enriched vomitus and faeces to create the most potent secondary kill effect. ZENITHOR Viral Excretion Transfer™ ensures the toxicant is passed on to the more sedentary life stages, specifically early instar nymphs, that do not venture far from the harbourage for their food resources.