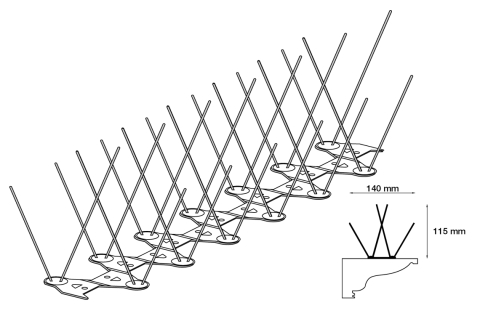 Ecopic bird spikes are made of the finest materials for extra longevity and effectiveness. Their unique design ensures easy application and greater durability and grip on all surfaces, whether indoors or exposed to the elements.
TEN (10) Year manufacturer's guarantee
80% virgin polycarbonate base ensures rugged adherence to all substrates
UV resistant and guaranteed for ten years
Secured with natural silicone so there is no damage to the building
Concave design to the Ecopic mount allows the natural silicon to slip over the edge of the mount for better adhesion
A rough underside to the mount enables greater adhesion
Holes in the mount allow silicone to seep through and create greater adherence
Will not burn or melt
Adheres to surface at tension of 5.4Kg / cm2!
Steel spikes have spring of 1900N / mm2 to resist birds and maintain spring in extreme temperatures.
Spikes will not bend and allow birds to roost
AISI 302 marine grade stainless steel, lasts exposures of more than 1000 hours of salty mists!