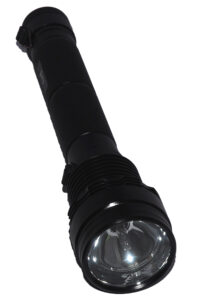 DUAL POWERLIGHT FLASHLIGHT
Rechargeable Dual Flashlight – UV-A & White Light
Designed by professionals for professionals, this Powerlight Flashlight is the most powerful flashlight available for the pest control industry offering both white light and UV-A light.
The powerlight flashlight is ideal for all your professional inspection needs, whilst the second UV-A light is perfect for scorpions; rodent inspections, to reveal urine stains; and bed bug treatments to reveal the presence of eggs.
This torch is as rugged as they come, protected against water immersion to 1 m, drops from 1.5 m, scratch-proof, temperature-resistant to 100 degrees Celsius and manufactured to ISO9001 – this is truly a torch for professionals.
Contents:
DUAL POWERLIGHT
Li-ion rechargeable battery
Multi-charger for mains or in-car charging
Belt holster