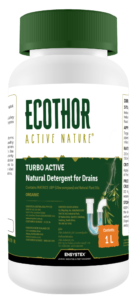 ECOTHOR ACTIVE NATURE TURBO ACTIVE
Natural Detergent for Drains
This is a pure and natural solution for healthy drains, providing for the removal of accumulated biofilms and their associated smells and infestations. When you create a healthy drain with TURBO ACTIVE, you will see many other problems disappear, including drain flies, bacteria, moulds and unhealthy smells.
The natural plant extracts used in TURBO POWER are all cold extracted from the fresh plants, harvested in the 'balsamic moment', just as the flowers begin to open, to provide the purest extracts.
TURBO ACTIVE contains our proprietary active, MATRICE U.B.®, an active phyto-complex, polyvalent and potentiator, watery extract of the leaves of Olea europaea, the sacred European olive tree; together with a carefully selected blend of natural plant oils.
ECOTHOR ACTIVE NATURE TURBO ACTIVE: Natural Detergent for Drains cleans and sanitises due to the strong power it exerts on unhealthy biofilms. The eubiotic fragrance is an oil-gel natural product that releases a long-lasting perfume that also contributes to creating an unpleasant environment for biofilms and the associated pests that thrive in these biofilms, such as drain flies.